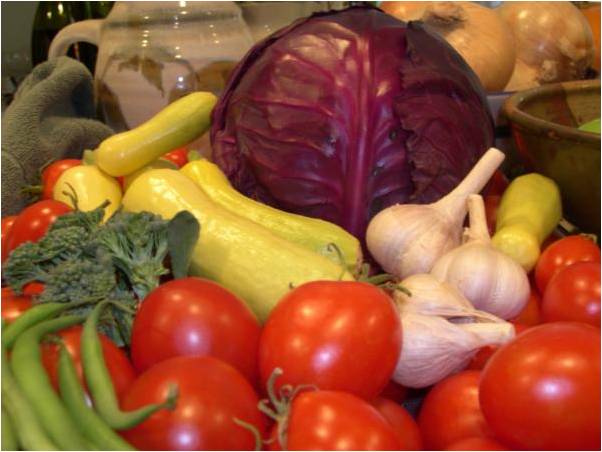 American's desire for better taste and nutrition, a smaller carbon footprint, and teaching children about connections with the natural world are leading people to add vegetables and fruits to their ornamental gardens according to several marketing surveys (i.e., Garden Writer's Association, National Gardening Association, etc.).
Growing vegetables and fruits in kitchen gardens or enclosed spaces near the house have been a tradition since Roman times. During World War II, many people in the US and elsewhere grew their own food in their yards to supplement their diet and because farms were not producing as much because many farmers joined the military. After the Green Revolution (primarily due to the application of commercially manufactured petroleum based fertilizers and cultivars that are suited for long distance travel and longer holding times), farm yields increase significantly so that the economies of scale principle drove many small family farms out of business as agribusinesses proliferated. With mass produced food and supermarkets to distribute them, many people never experienced the subtle flavors of locally grown fresh vegetables and fruits.
Today, people are becoming more aware of the impact humans have on their environment and are looking for ways to change that. Some people are craving the taste of home grown; others are just interested in organic foods. Heritage cultivars and varieties are becoming more popular and easier to find. Seed sources such as Territorial Seed, Seeds of Change and Peaceful Valley all carry heirloom varieties of vegetables and some fruits. Some nurseries are selling potted starts of these and some large groceries chains are also selling the produce at a premium price.
Whether gardeners grow from seed or buy potted vegetable starts, there are many ways to use vegetables and fruits to add ornamental interest to the garden. Instead of planting annual flowers, plant vegetables. Pea, beans, cucumbers, and winter squashes can be trained to grow vertically or left to sprawl through perennials and small shrubs. Lettuce, kale, spinach, Swiss chard , and Strawberries can be used as small-scale ground covers. Blueberries not only have flowers in the spring and berries in the summer, they also add fall color when their leaves turn shades of yellow and orange. A hedge or group of blueberries can be used like any other deciduous shrub. Cane fruits like raspberry and blackberry can also form a taller background for an ornamental garden, or be tied to a trellis or fence. With these berries, there will be pruning to cut out canes that have produced to allow the new ones to grow.
In Medieval times, it was common to espalier fruit trees along a stone wall to produce more fruit in a small space and control the size of the tree. Today, cultivars of apples, cherries, pears, plums, peaches are available on dwarfing root stock that controls height (semi-standard or dwarf). With smaller trees, it is easier to grow multiple cultivars for cross-pollination in a smaller area. There are even columnar forms of apples and pears available. Check out Rain Tree Nursery for varieties that are suited to the rainy side of the Cascades.
While suburbanites may be growing their own fruits and vegetables, city dwellers can have access to locally grown and organic produce through Community Supported Agriculture (CSA). CSAs also have been around since the 1940's but are now experiencing renewed popularity. CSAs are supported by members that buy a share of what will be grown by the farms that are also members. There are CSAs in most counties in the state. Farm producers for Puget Sound CSAs are listed by Puget Sound Fresh directory. Consumer members sign-up for a specific number of weeks of fresh foods supplied by the farms of the CSA, and then pick-up the food at designated distribution points (usually farmers markets).